We are at our destination af a smooth and pleasant journey.
We were a little shocked when our trunks were refused at the pick up.
We had to admit that they contained our bicycles. We were nervous that we had to pay extra, so we insisted that this was normal luggage. We were asked to go to another desk in the opposite end of the terminal.
And then there was not any problem.
No extra payment. Just a little adrenalin.

The plane was delayed, but only 5 minutes delayed on arrival.
And the car was completely new, a VW-polo. But the man at the desk was slow and annoying. But we were calm.

We managed the traffic easily enough and arrived at the apartment 18.30
almost as expected and hoped for.
Five minutes and Jordi was there, helped us find the parking place and gave a fine introduction to the apartment.


The apartment is excellent, extremely well organised to house six persons. The parent's bedroom is also the only office. The two boys share a small room with bunks that can be placed vertically on the wall. Two bathrooms, a little practical kitchen.

We take a little rest.

Nine o'clock a little walk along the beach. Full moon. We find the restaurant with the Buddha, now inside. We were here 11 years ago. Dinner laying in sofas.
Now it has changed to Thai. So we decide for the neigbour AGUA.
Very nice interior, pleasantly warm.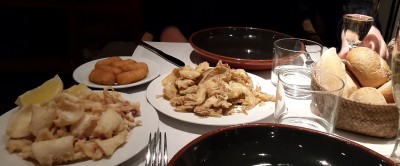 Very fine tapas. Squids deep-fried, artichokes, Dessert, Coffee and cognac.
It is a nice evening, not really cold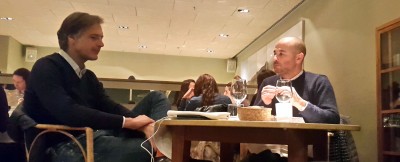 Så er vi her.
Alt er gået glat.
Cyklerne skulle til en anden bagageindlevering. Det udfordrede vores temperament lidt.
Uden grund.
Flyet var noget forsinket i afgang, men kun 5 minutter i ankomst.
Bilen var spritny - en nydelig Polo - selvom skranketrolden var langsom.
Trafik i BCN gled fint selv om det var myldretid.
Ringede til Jordi, da vi stod ved døren, 5 min efter var han der. Bilen kom i garage og vi kom op og ind i lejligheden.
Lejligheden skøn. Praktisk indrettet til to voksne og fire børn.
Vi hviler lidt inden vi tager et lille smut for at få os noget aftensmad.
Og sikke et smut. Fulgte stranden i retning af Barcelonetta. Checkede nogle af strandrestauranterne ud, bl.a. Carpe Diem, hvor vi for 10 år siden lå og spiste for nedrullede gardiner. Nu faldt vi for AQUA. Kom i godt humør med en Moet et Chandon med carpatio på foie gras. Tapas små blæksprutter, baignerede artiskok. ... recuit med nødder og mandler i sirup. Mousse marron. Kæmpecognacer. Enorm fin stemnng i en næsten fyldt restaurant. Smukke mænd især den ene af dem.
Cykling langs stranden er perfekt - masser af cykelstier eller brede fortorve med løbere, gående og så alle os på cykel.